VR Headset with Headphones GH-VRHB-BK
You can enjoy VR contents on your smartphone with the VR headset.
Three-point holding type headband which can be fixed and adjusted firmly
A wide viewing angle of 120 °
You may adjust volumes and answer calls without detaching the smartphone.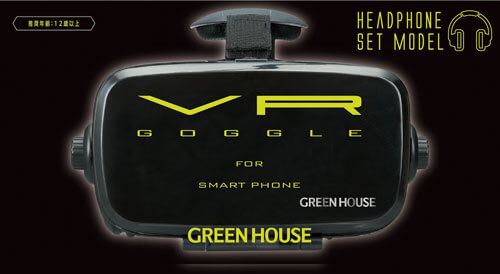 International Certification Criteria: GREEN HOUSE has various international certification standards: "ISO 14001", "ISO 27001", and "ISO 9001".
We deliver safe and high quality products.
| | |
| --- | --- |
| P/N / JAN code | GH-VRHB-BK / 4511677111198 |
Release Date: Middle of July 2017
Features
Compatibility
Specifications
Features
Three-point holding type headband which can be fixed and adjusted firmly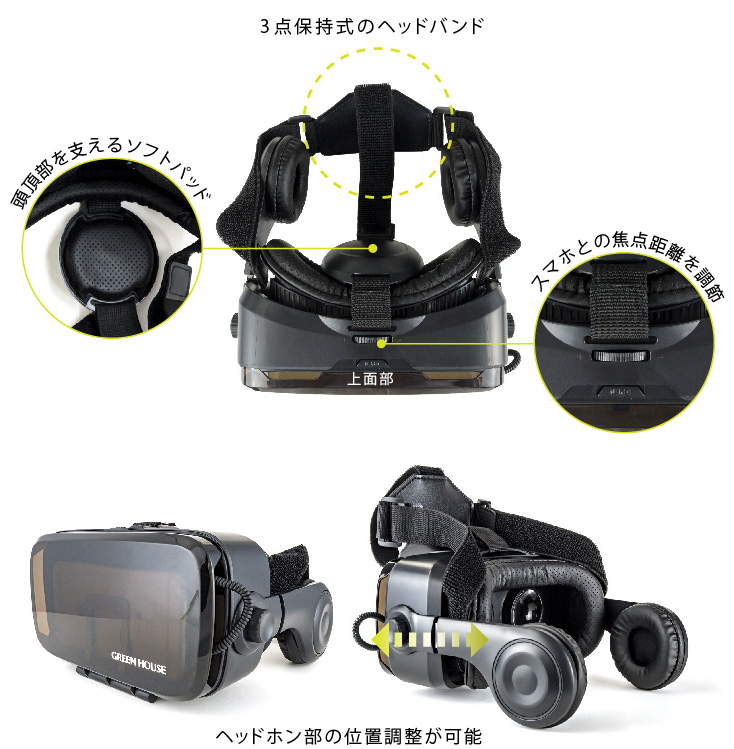 Headband
Soft pad for head top
Adjust focal length against smartphone
Headphone position is adjustable.
Volume adjustment and reception possible with smartphone installed
Volume Dial
Eject button
Press eject button to remove smartphone easily.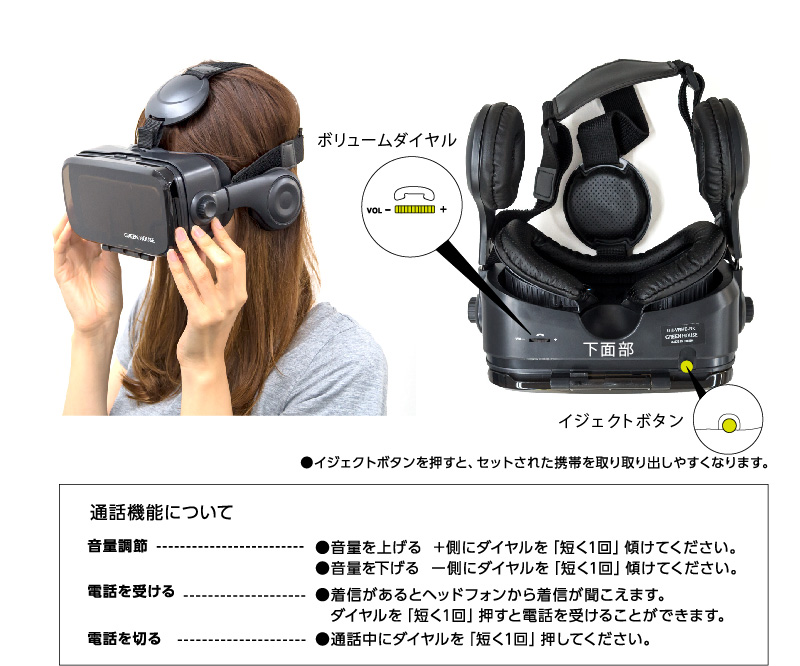 Call functions
Volume adjustment
Volume up : turn the dial to "+" once
Volume down : turn the dial to "-" once
Receive a call
When you receive a call, you can hear ringtone.
Press the dial once to start a talk.
Turn off a call
While talking, press the dial to turn it off.
Adjustable lens position (left and right)
Adjust lens position Wide view angle 120°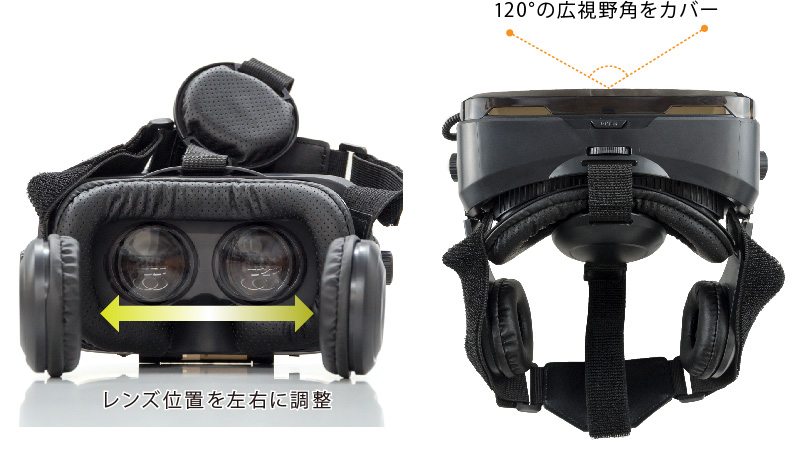 Compatibility
Compatible models
4.7 inch to 6.1 inch smartphone such as iPhone 8, iPhone 8 Plus, iPhone 7, iPhone 7 Plus, iPhone SE, iPhone 6 s, iPhone 6 s Plus
* Even if it is a corresponding size, it may not fit well depending on the shape of the smartphone and the button and connector position.
* When using the headphone section with a smartphone not equipped with earphone jack such as iPhone 7, iPhone 7 Plus, conversion adapter (sold separately) is required.
Specifications
| | |
| --- | --- |
| Lens diameter | 42 mm |
| Material ABS | + PS |
| Lens diameter | 42 mm |
| Viewing angle | 120 ° |
| Focus | Adjustable |
| Pupillary | Adjustable |
| Material ABS | + PC + magnet, PMMA |
| Weight | about 430 g |
| Product size | W220 × D195 × H110 (mm) |
| Supported smartphone | 4.7 to 6.1 inches |
Headphone section specification
| | |
| --- | --- |
| Plug | 3.5mm stereo mini plug |
| Frequency range | 20 Hz – 20,000 Hz |
| Maximum input | 50 mW |
| Sensitivity | 123 dB / mW |
Accessories
Wiping cloth
Precautions on use
If smoke, heat, unusual smell, or abnormal noise occurs, stop using it immediately.
Do not burn, bluff, throw or drop.
Do not allow foreign objects or liquids to adhere.
Avoid hot and humid environment and direct sunlight.
Do not disassemble or remodel it.
Do not use in places where children and infants can reach.
Do not use in a crowded areas like outdoors.
Please be careful when using it in a situations where things and furniture are scattered.
It does not support viewing of all VR contents.
There are individual differences in how VR content looks, and due to individual differences, it may rarely cause a physical condition.
If you need to have VR content to be watched by children, please be carefully guided by the parents and pay attention to the viewing time.
We do not shoulder any responsibility for data loss, malfunction or damage of smartphone due to the use of this product.
The color of the product image may differ from the actual product.
Product design and specifications are subject to change without notice due to improvements.
The product names and model names mentioned are trademarks or registered trademarks of each company.
The prices, specifications, service details and corporate information of the products described in the release are as of the date of release.