USB Memory GH-UFD*GN Series
High cost performance USB memory "PicoDriveN"
With password lock software
RoHS compliant
Best for logo customization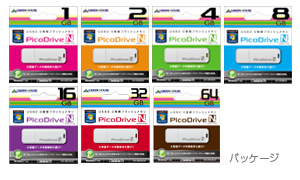 International Certification Criteria: GREEN HOUSE has various international certification standards: "ISO 14001", "ISO 27001", and "ISO 9001".
We deliver safe and high quality products.
| | |
| --- | --- |
| Capacity | P/N / JAN |
| 1GB(EOL) | GH-UFD1GN / 4511677062902 |
| 2GB(EOL) | GH-UFD2GN / 4511677062919 |
| 4GB | GH-UFD4GN / 4511677062926 |
| 8GB | GH-UFD8GN / 4511677062933 |
| 16GB | GH-UFD16GN / 4511677064821 |
| 32GB | GH-UFD32GN / 4511677065064 |
| 64GB | GH-UFD64GN / 4511677066634 |
Product Release: Early Dec. 2011
Features
Compatibility
Specifications
Features
Password lock function: Protect data from information leakage due to loss
Even if you lose the USB memory, the contents will not be seen by third parties by any chance.
* Download of password lock software is necessary from "Driver download" tab in this page.
※ The password lock software works on Windows OS only (XP / 2000 can be used only with administrator privileges).
Password lock software screen shot
You can easily save anything like digital camera images, digital music etc.
You can use various ways such as moving data created on Mac to Windows. Of course, you can save your digital camera image, digital music, work data such as Excel and Word, whatever you like.
"Compatible with Windows 7" logo certified products
We have acquired Microsoft's certified logo program "Compatible with Windows 7" to indicate that it is a compatible product with Windows 7.
Easy connection: just plug it directly into USB port
You can plug USB memory directly into USB port. Driver installation is unnecessary.
Environmentally friendly, RoHS compliant with reduced content of lead etc.
It is environmentally friendly product conforming to the European environmental standard RoHS directive.
Ideal for novelty & souvenirs!
This product is the standard model most suitable for logo customization service. Please use it for souvenirs, promotion etc.
Compatibility
Compatible models
Windows PC
Macintosh (Apple PowerPC G3 and later)
Compatible OS
Windows 10(32bit/64bit) / 8.1 / 8 / 7 / Vista / XP(SP2~/32bit) / 2000(SP4)
Mac OS X(10.4 and later)
Specifications
| | |
| --- | --- |
| USB Spec | USB2.0/1.1 |
| Data Transfer Rate | Max. 480Mbps (I/F theoretical max.) |
| Power Consumption | Max. 160mA (operating) |
| Operating Temperature | 0~70℃ |
| Weight | 7.5g |
| Dimensions | W54.1×D18.0×H8.1(mm) |
| Accessory | Manual/Warranty Card |
Precautions on use
Because of the difference in storage capacity calculation method, there is a difference between the storage capacity described in the product (calculated as 1 KB as 1000 bytes) and the capacity on the personal computer (1 KB calculated as 1024 bytes). As a part of the storage capacity is used as the system area and spare area, you can not use all of the storage capacity described in the product.
This product does not guarantee operation with "Windows ReadyBoost".
Due to the material, degradation of the housing surface may occur, but this is not a malfunction.
This product can not be guaranteed for operation on non-supported OS.
This product can not guarantee the operation of other USB devices for coexistence and combination use.
This product can not guarantee operation during power saving mode.
We are not responsible for any loss of data due to the use of this product.
Product design and specifications are subject to change without notice due to improvements etc.

The product names and model names mentioned are trademarks or registered trademarks of each company.