SDHC Memory Card GH-SDHCUA Series
Data Transfer Speed 40MB/s, UHS-I SDHC Memory Card (8GB~32GB)
High Speed SD Bus Interface "UHS-I" Supported
With plastic case for easy carrying
With INDEX sticker for writing notes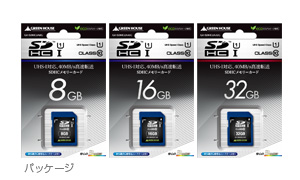 International Certification Criteria: GREEN HOUSE has various international certification standards: "ISO 14001", "ISO 27001", and "ISO 9001".
We deliver safe and high quality products.
| | |
| --- | --- |
| Capacity | P/N / JAN |
| 8GB | GH-SDHCUA8G / 4511677074295 |
| 16GB | GH-SDHCUA16G / 4511677074301 |
| 32GB | GH-SDHCUA32G / 4511677074318 |
Product Release: Early Dec. 2011
Features
Compatibility
Specifications
Features
Compatible with high-speed SD bus interface "UHS-I"
High speed SD bus interface UHS-I compatible device *, high speed transfer can be achieved with maximum readout of 40 MB / s and maximum writing of 12 MB / s.
Ideal for long-time movie recording / playback on digital cameras and digital video cameras with higher image quality and higher capacity.
* UHS-I non-compliant devices also achieved the same transfer speed as the speed standard "Class 10" specified by SD association.
3-year warranty
With INDEX sticker for writing notes
With plastic case for easy carrying
With lock switch to prevent erroneous erasure
Complies with advanced copyright protection function Secure Digital Music Initiative (SDMI) standard
Environmentally friendly, RoHS compliant with reduced content of lead etc.
It is environmentally friendly product conforming to the European environmental standard RoHS directive.
RoHS compliant
Environment-conscious "paper resource saving" eco package adopted
We reduced the paper materials by about 30% compared to conventional packages and adopted eco-packages that completely eliminates plastic materials.
Environment-conscious "paper resource saving" eco package adopted
Easy to understand performance of SD card and how to choose cards.
Is that so! Easy to understand SD card
Compatibility
Compatible models
SDHC standard compatible equipment
* It can not be used with devices compatible only with SD memory cards.
SDHC
Comparison: SDXC / SDHC / SD
Since SDHC memory cards are not compatible with conventional SD standards, they can not be used with devices compatible only with SD memory cards.
Applicable devices are SDHC compliant devices of which SDHC logo is described on the main unit or instruction manual.
Please be careful in advance.
Compatibility information
For the latest compatibility information please check from "KENSAKU-KUN for Mobadeji".
→ "KENSAKU-KUN for Mobadeji"
Specifications
Standard
SD Memory Card Specification Ver 3.0 compliant
Transfer speed
Up to 40 MB / s (Read), Up to 12 MB / s (Write)
*In UHS-I mode
UHS Speed Class
1
SD speed class
10
Power-supply voltage
2.7 to 3.6 V
Current consumption
200 mA (max)
Operating temperature
0 ° C to 70 ° C
Operating Humidity
25% to 93% (without condensation)
Dimensions
24.0 (W) x 32.0 (D) x 2.1 (H) mm
Weight
About 2.0 g
Warranty period
3 years
Accessories
INDEX sticker, plastic case, warranty card
Precautions on use
Because of the difference in storage capacity calculation method, there is a difference between the storage capacity described in the product (calculated as 1 KB as 1000 bytes) and the capacity on the personal computer (1 KB calculated as 1024 bytes). As a part of the storage capacity is used as the system area and spare area, you can not use all of the storage capacity described in the product.
Do not use this product for devices other than SDHC compatible devices.
The transfer rate is the maximum value in sequential access in UHS-I mode.
SD and SDHC logos are trademarks of SD-3C, LLC.
GREEN HOUSE is a member of SD Association.
We are not responsible for any loss of data caused by the use of this product, or loss of connected equipment etc.
The color of the product image may differ from the actual product.
Product design and specifications are subject to change without notice due to improvements etc.
The product names and model names mentioned are trademarks or registered trademarks of each company.