Portable Smoke Gun, Infuser GH-SMKBHC-SV(Silver)
Handheld Smoke Infuser for Cocktail Food Smoking, Enhance Taste for Meat, Sous Vide Steak, Grill, BBQ, Popcorn, Eggs, Mixed Nuts & Cheeses. Perfect Gift of Special Occasion for Mothers, Women & Smoke Food Lovers.
ALL NATURAL – Enjoy natural and authentic smoked food or drinks without chemicals & times.
COOL SMOKE SYSTEM – No more open fires and smokey kitchens! Our portable kitchen smoking gun produces COLD SMOKE for your sous vide meat, cocktails, vegetables, cheese, salmon without changing their texture or temperatures.
FAST & EASY TO USE – Convenient and easy to use. Add a delicious smoky flavor to your food and drinks in no time!
COMPACT & BATTERY OPERATED – This portable food smoker uses 2xAA batteries (NOT included). Easy assembly. Suitable for your home kitchen, bar, restaurant, or outdoor use like BBQ, picnic, hiking, fishing e.t.c.
MAINTENANCE – Pull out the top of the smoker & Empty the burned Chamber & ash. Wipe with a damp rag and dry it fully. For any questions you are welcome to contact us at any time.
International Certification Criteria: GREEN HOUSE has various international certification standards: "ISO 14001", "ISO 27001", and "ISO 9001".
We deliver safe and high quality products.
Product description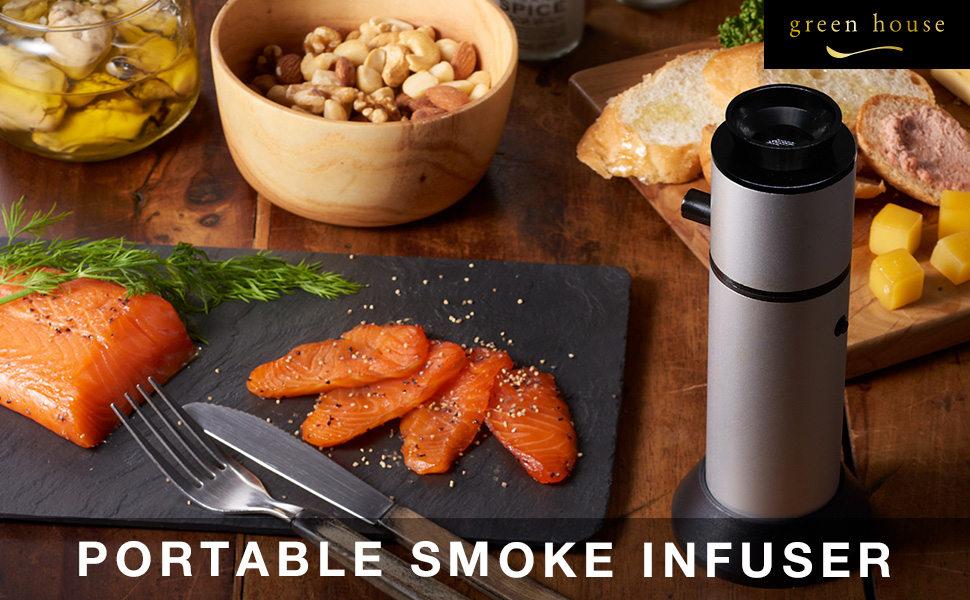 The Smoking Gun By GREENHOUSE
Welcome to the Smokey Flavor Club! Checkout some of our smoked food & drink ideas!
This amazing kitchen tool allows you to infuse a variety of foods and drinks with natural smokey flavors like apple wood or cherry wood with gentle, cold smoke.
Your only limit is your imagination!
Why the GREEN HOUSE Smoker?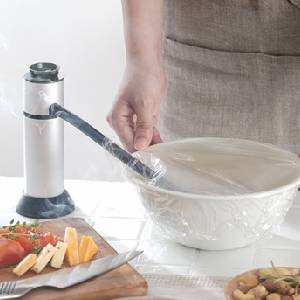 Cold Smoke System
Cold smoke is gentle on foods, so you can smoke delicate foods like ice cream, butter or cocktails as well as meats and cheese. Keep your house and kitchen cool and still enjoy that rich smoky taste!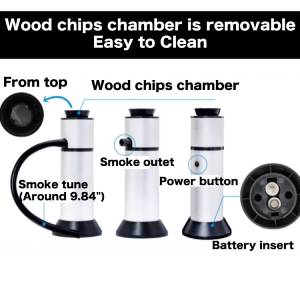 Compact & Easy to Clean
Compact size to enjoy perfect BBQ Grills at home. Easy to wash & keep clean by removable top.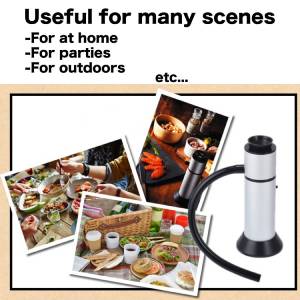 Useful for Indoors or Outdoors
Enjoy smoky flavor at anytime and anywhere you like, indoors or outdoors! Perfect gift for Christmas, Thanksgiving, birthdays, weddings, Mother`s Day, Father`s Day and more!
Amazing Smoking Food. Let`s Start Enjoying A Delicious World!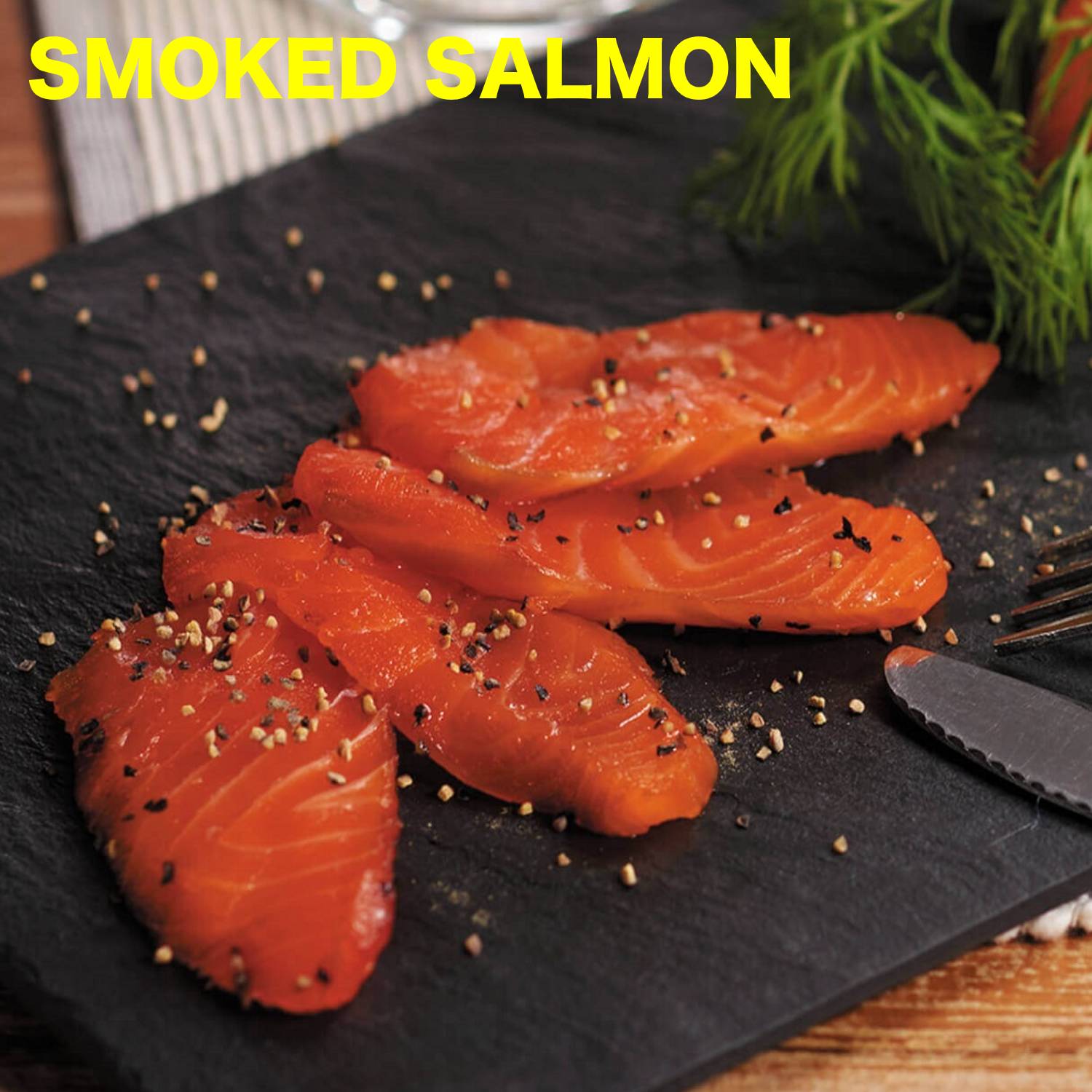 Smoking time: 15 minutes
Recommended wood chips: cherry/ hickory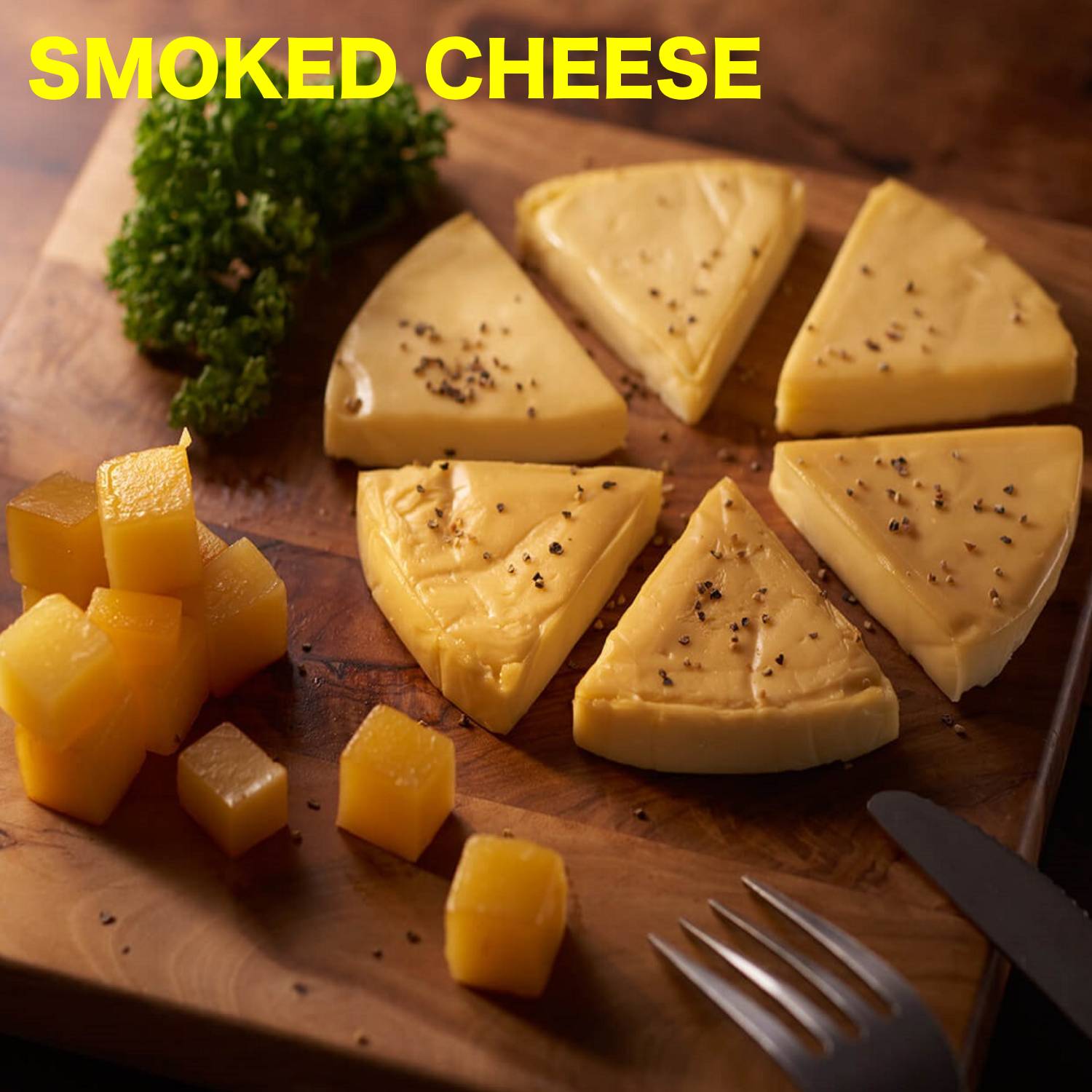 Smoking time: 10 minutes
Recommended wood chips: hickory/ apple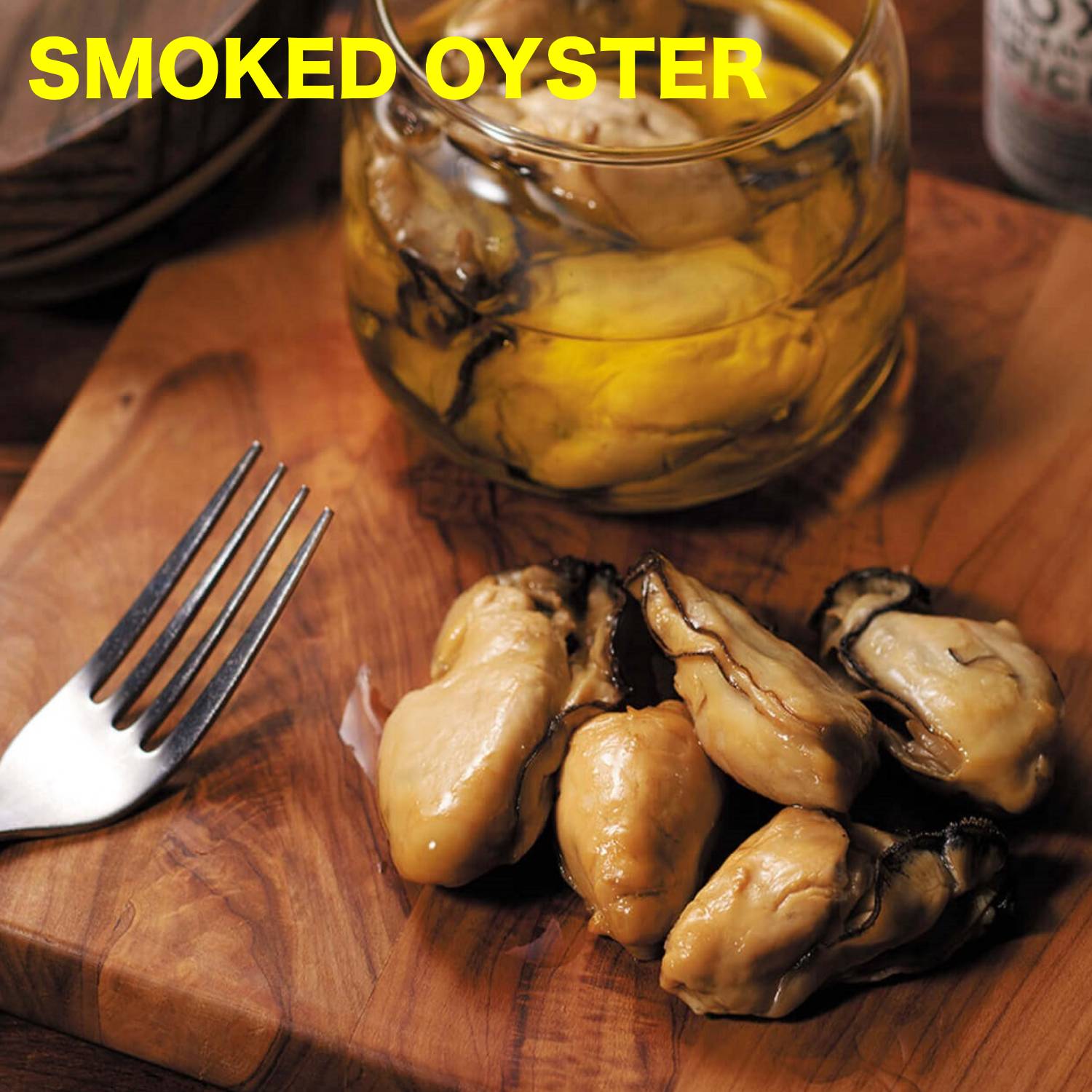 Smoking time: 30 minutes
Recommended wood chips: cherry/ hickory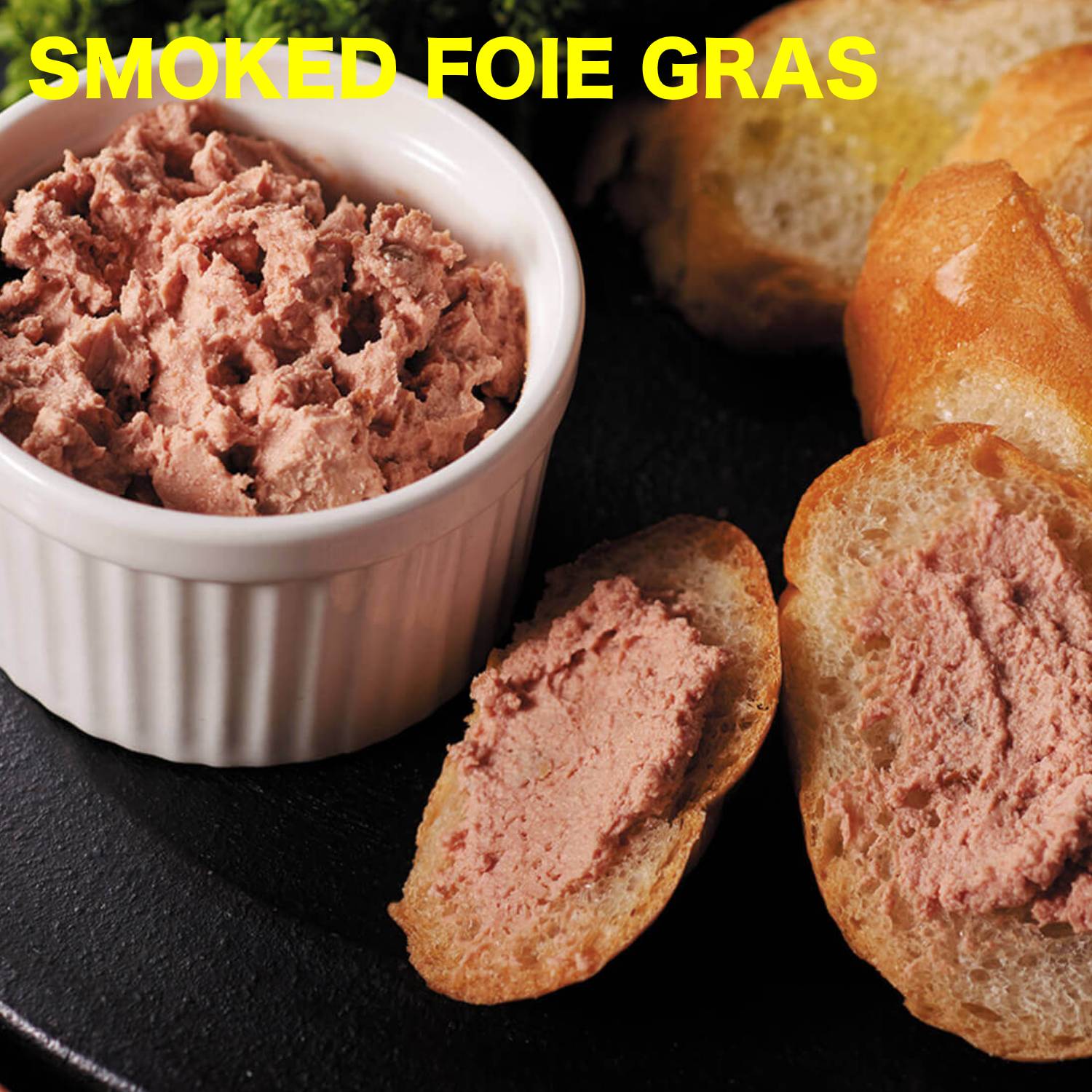 Smoking time: 30 minutes
Recommended wood chips: cherry/ hickory