10.1-inch wide E-POP w/ mounting bracket GH-EP10B-WH
Digital signage terminal which is ideal for sales promotion at stores
It can play movies, still images and music in SDHC card.

Front speakers mounted (3 W + 3 W)

Mounting bracket is attached for immediate installation
International Certification Criteria: GREEN HOUSE has various international certification standards: "ISO 14001", "ISO 27001", and "ISO 9001".
We deliver safe and high quality products.         
| | |
| --- | --- |
| Color | P/N / JAN code |
| White  | GH-EP10B-WH  / 4511677104831 |
Release date: early August 2016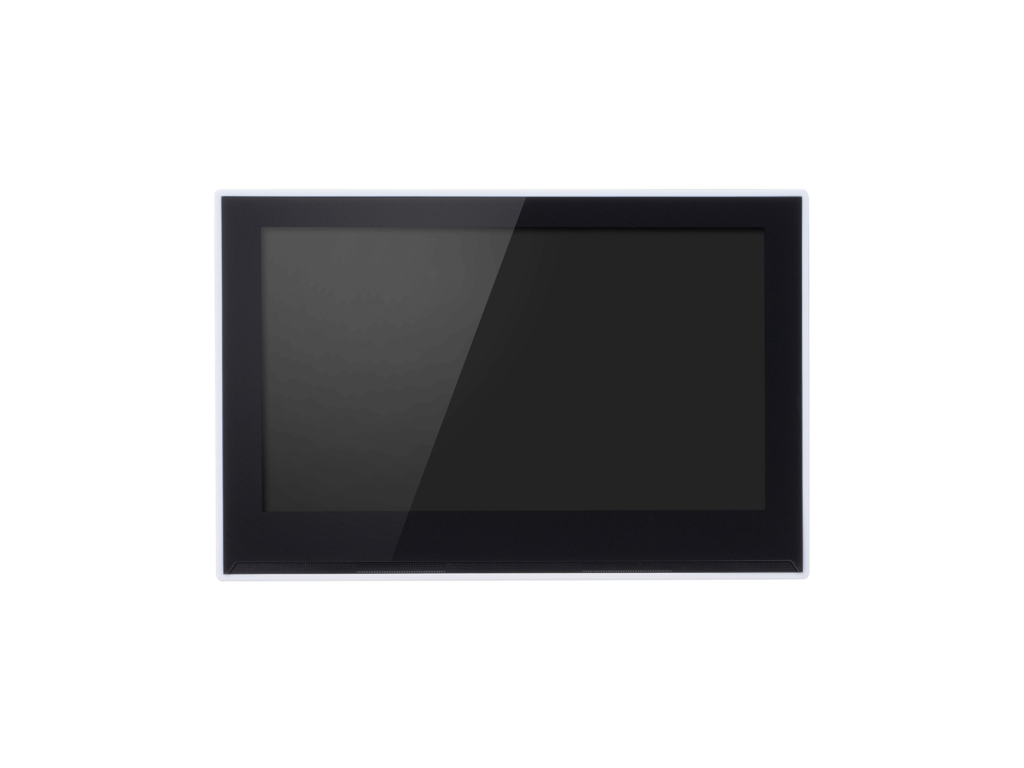 Features
Digital signage terminal with 10.1-inch wide LCD
It is a digital signage terminal equipped with an LED backlight that can be attached to commodity shelves of various shapes in compact size.

It can play movies, still images and music in SDHC card.
You can play the product introduction video or product image in slide show format.

Front speakers mounted (3 W + 3 W)
Because it has a built-in speaker, it can be installed alone. You can play music and recorded sounds.

Convenient and economical automatic power on / off function
It lights automatically at the time the store opens, and can be set to the power off state at the time of closing.
Easy bulk update of contents with USB memory
To replace promotional movies and product images, simply insert the USB memory and update. You can update easily without using a PC.
The contents of the SDHC card inserted in the digital signage terminal will be played.

Turn off the power, insert the USB memory containing the new content and turn on the power.

The content in the USB memory is automatically overwritten and copied to the SDHC card. USB memory is unnecessary after copying.

Dedicated stay installed for immediate installation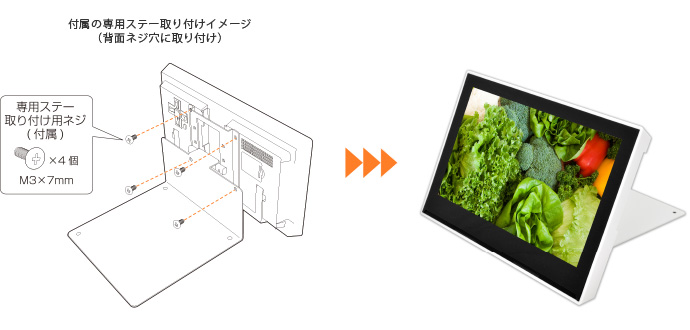 Built-in stand
A convenient rear screw hole for installation
Remote control storage on the back
Slot cover included to prevent the removal of the memory card
You can close the card slot with screws so that the SD / SDHC card can not be pulled out.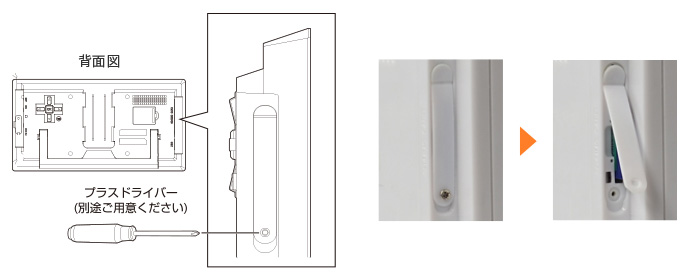 We will also support original customization
Customization such as name insertion and copy protection is possible.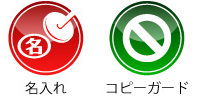 Copy protect service that prevents copying of data (option)
You can write the data you have stored on a memory card etc. in a format that can only be displayed on the compatible terminal.
Since the file is not displayed on a personal computer etc., it can prevent copying of data.
* Although it is not displayed on the OS, copying is possible for each drive.
Specifications
Screen

10.1 inch wide TFT liquid crystal

Resolution
1024 × 600 pixels
Contrast ratio
500: 1
Brightness
250 cd / m²
Supported external memory
SD memory card (2 GB)
SDHC memory card (4GB to 32GB)
Playable format
MPEG-1 / MPEG-2 / MP4 * 1
/ MP3 (CBR / VBR) / WMA (CBR / VBR) * 2
*1: Only H.264 Baseline level 3 or less is supported
*2: Only for WMA Standard V2
Power supply
5 V / 2A
Power consumption
maximum 10 W
Mount terminal

audio output terminal, SD card slot, USB terminal

Speaker
3W + 3W
Operating temperature range
0 ° C to 40 ° C
Operating humidity range
5% to 85% (non condensing)
Outer dimension
W262 × D33 × H172 (mm)
Weight
Approx 600 g (body only)

Accessories
Remote controller (test button battery installed), memory anti-theft cover (with screws), AC plug detachment prevention metal fitting (with screws), dedicated AC adapter (3 m), internal clock button battery (for testing, installed), Mounting bracket (already installed),  manual, warranty card
Precautions on use
Since the included button battery is for testing, its life may be short.
External memory is not included.
You are responsible for managing data created using the functions of this product.
Playback may not be possible even with the corresponding external memory or format.
We are not responsible for any loss of data caused by the use of this product, or loss of connected equipment etc.
Data in external memory is not guaranteed at all. We recommend that you back up important data to other media (CD – R, hard disk etc).
Liquid crystal panels may have black dots (points not lit) or bright spots (lit points) in the liquid crystal panel as characteristics, but please note that it is not a product defect or breakdown.
SD and SDHC logos are trademarks of SD-3C, LLC.
The color of the product image may differ from the actual product.
Product design and specifications are subject to change without notice due to improvements.
The product names and product names mentioned are trademarks or registered trademarks of each company.