Egg-Shaped USB Humidifier GH-UMSEE Series
Give your office moisture.
Personal USB humidifier to moisten the desk around
USB power supply type available on your desk
Ultrasonic type which does not get hot and mist immediately comes out
Two modes to choose mist amount (normal / interval)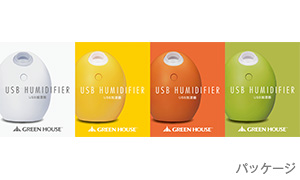 International Certification Criteria: GREEN HOUSE has various international certification standards: "ISO 14001", "ISO 27001", and "ISO 9001".
We deliver safe and high quality products.
| | |
| --- | --- |
| Color | P/N / JAN code |
| White | GH-UMSEE-WH / 4511677108242 |
| Yellow | GH-UMSEE-YL / 4511677108259 |
| Orange | GH-UMSEE-OR / 4511677108266 |
| Green | GH-UMSEE-GR / 4511677108273 |
 Release date: Early October 2016
Features
Compatibility
Specifications
Features

Personal USB Humidifier which gives moisture around your desk
60% of human body is made of water and dry air is bad for skin and throat especially. Virus of influenza and cold are active in dry environment (humidity <40%) and easier to infect.
Cute Egg-Shape
Cute, compact and simple design looks peaceful and it does not need much space on your desk.

How to Use
Twist the body and remove top from bottom.
Pour water into the bottom part.
Twist the body and lock it.
Connect the product and PC etc. via USB cable.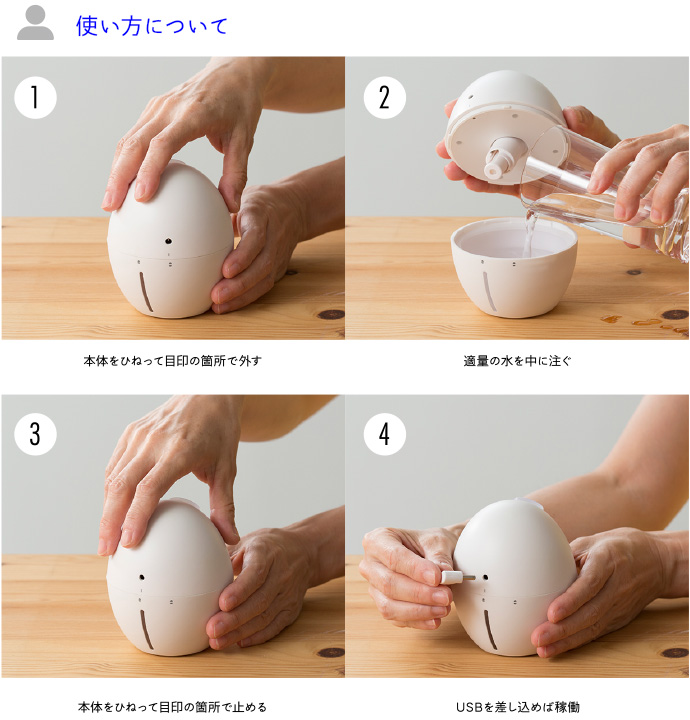 USB-Powered
You can connect to USB port on PC via USB cable on your desk.

USB cable
(included in package)
Mist by Ultra-sonic vibration.
Mist comes out immediately after power-on without too much heat.
No worries on burn. You can soon get moisture.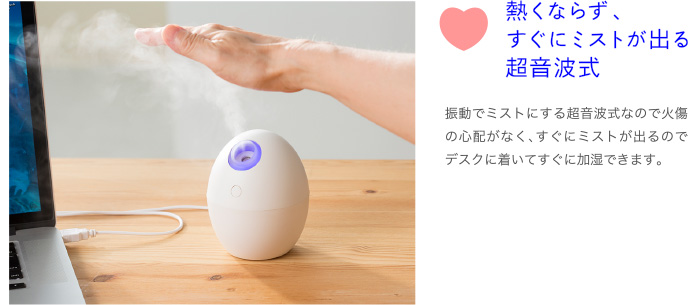 Two modes to choose mist amount (normal / interval)
Normal mode = Green LED lighting.
Interval mode = Blue LED lighting.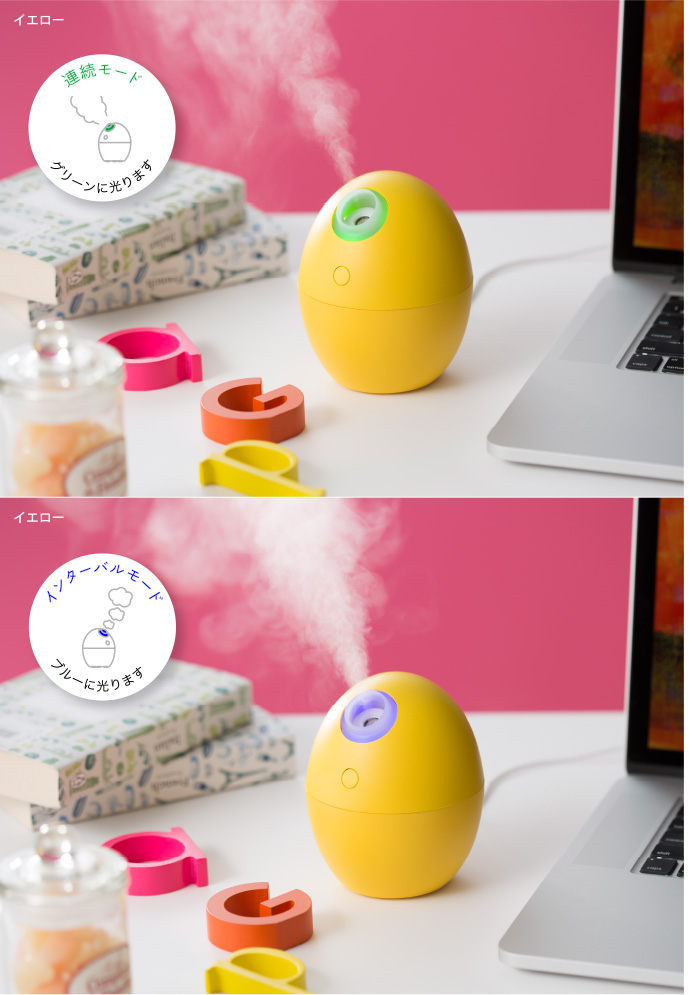 Usage image in two modes
Quiet design that does not matter even if placed in the desk
The humidifier will not disturb you with noise as it's very quiet.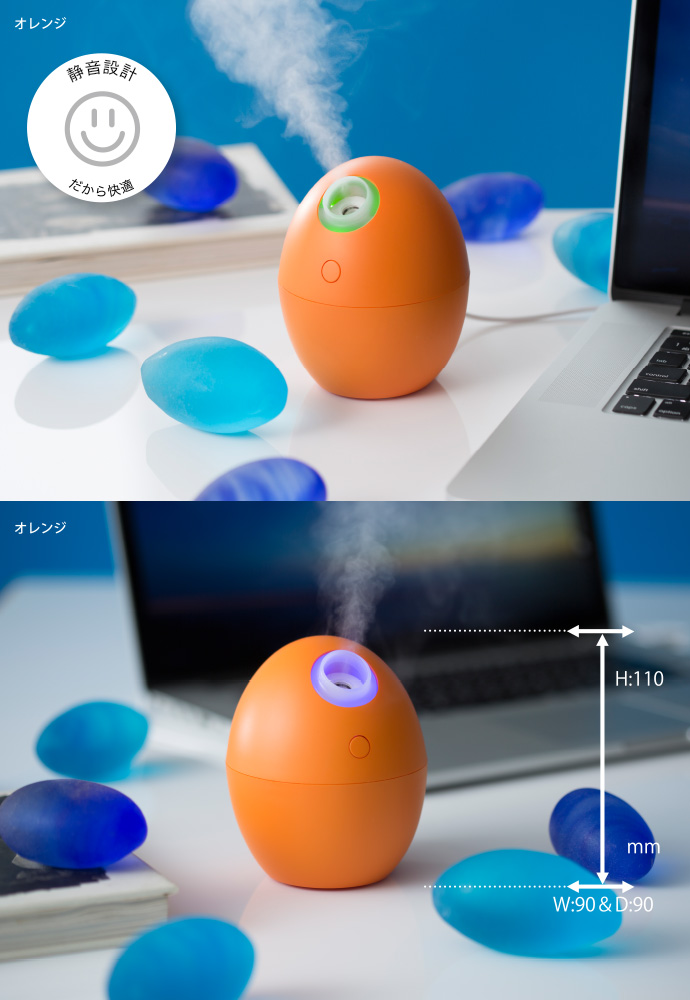 Quiet design. Comfortable.
Auto Power-Off function.
After 5 hours, it automatically off.
No worries to forget to power off the product.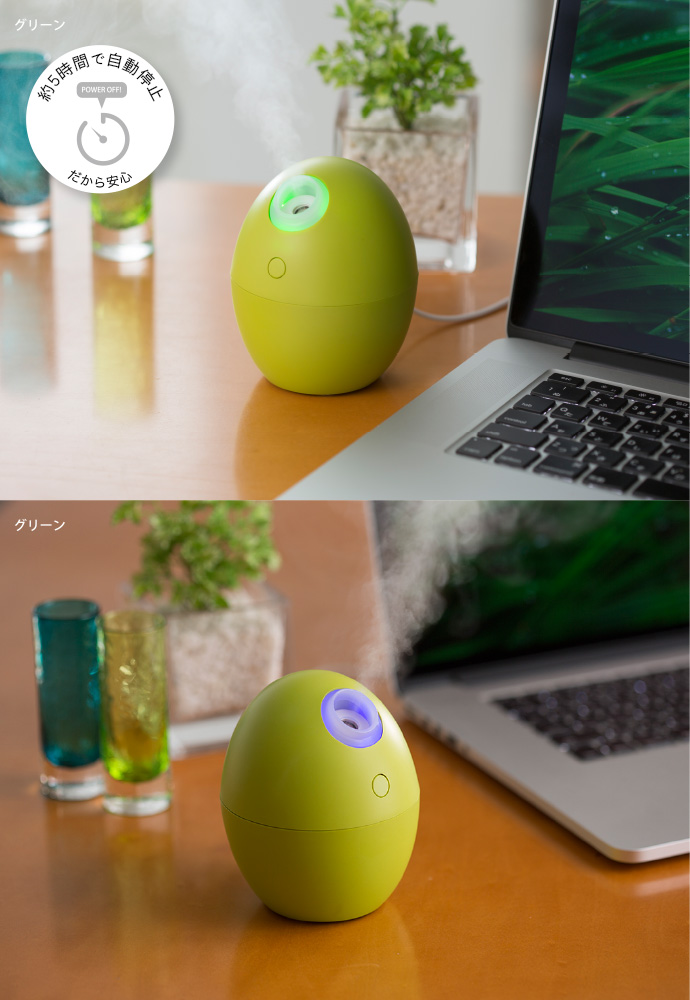 Can also be used with a power outlet via USB-AC charger (sold separately).
USB Cable USB-AC Charger Outlet
(sold separately)
→ Compact Cube Shape "GH-ACU1E Series"
→ Two ports Type "GH-ACU2D Series"
→ Colorful Cube Shape "GH-ACU1D Series"