DVD Player with HDMI port (Cable enclosed) Black GH-DVP1D-BK
Compact design DVD Player with HDMI port (Cable enclosed)
HDMI cable enclosed
Compact design: width 22.5cm only
Up-scaling function implemented
Various kinds of playing function are implemented.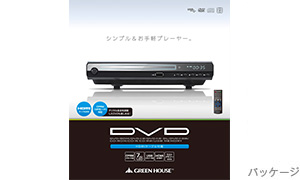 International Certification Criteria: GREEN HOUSE has various international certification standards: "ISO 14001", "ISO 27001", and "ISO 9001".
We deliver safe and high quality products.
| | | |
| --- | --- | --- |
| Color | HDMI cable | P/N / JAN code |
| Black | enclosed | GH-DVP1D-BK / 4511677097638 |
Release date: late April 2015
Features
HDMI terminal installed, simple and easy DVD player
It is a simple and easy DVD player that omits excessive functions.
It is perfect for living room, for bedroom and study for kids.

Compact design with a width of 22.5 cm
A compact size of 22.5 cm in width × 5 cm in height × 23 cm in depthhas achieved a space saving design which allows you to place it anywhere you like.

HDMI terminal & up scaling function for enjoying DVD images more beautifully
HDMI connection enables you to enjoy your HD on a higher definition and enjoy it on a more beautiful screen.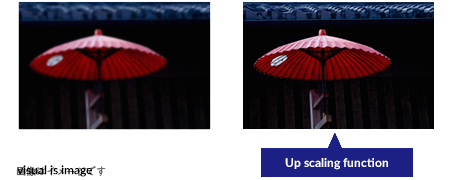 HDMI cable is enclosed in package so that you can connect the product to TV etc. quickly.

CPRM VR mode compatible with enjoying recorded TV programs
Because it corresponds to digital video copyright protection technology "CPRM" system, you can also enjoy DVDs recorded digital broadcasting.
* It does not correspond to the disc recording via AVCREC method.

CPRM is a copyright protection technology that prohibits copying of terrestrial digital broadcasting programs to media such as DVDs and then copying them from the recorded media to other equipment or media.
Front display
The product has a LCD display which is mounted on the front that displays the playback time and operation mode.

Playing time and current condition is shown.

Various playback functions are installed
In addition to normal playback, you can perform various playback such as fast forward / fast reverse (5 steps) / slow play / frame advance play / repeat play.
Equipped with various output terminals such as HDMI, composite, S terminal
Besides the HDMI terminal, it has a composite terminal and optical digital terminal etc. Up to 3 lines of video and 4 lines of audio can be output simultaneously.

Play movies, music and still images of USB memory
If you store the data of movies, music and still images in the USB memory, you can easily play these files by inserting it in the front USB terminal.

Specifications
Supported disc format
DVD-VIDEO / DVD-VR (CPRM compatible) / CD-DA / data DVD / data CD
Supported disk type
DVD-ROM / DVD ± R / DVD ± R DL / DVD ± RW / CD-ROM / CD-R / CD-RW
Supported speech codec
PCM / Dolby Digital / DTS
※DTS supports only bitstream output
Last memory function
Up to 1 items memorized
※It is necessary to set the function to "ON" by setting.
Supported external memory
USB memory (~ 32GB)
※Only for external memory formatted with FAT or FAT32
Supported file formats
MPEG1 / MPEG2 / MP3 / JPEG
Output signal system
NTSC
Video output resolution
1080p / 1080i / 720p / 480p / 480i
Terminal
HDMI terminal × 1
Component video output terminal × 1 each
S video output terminal × 1
Composite video output terminal × 1
Optical digital audio terminal (square type) × 1
Coaxial digital audio terminal × 1
Analog audio output terminal × 1
USB port × 1
Power supply
AC 100 V 50/60 Hz
Power consumption
maximum 10 W
Operating temperature range
5 ℃ ~ 40 ℃
Operating humidity range
20 to 80% (non condensing)
External dimensions
W 225 × D 230 × H 50 (mm)
Weight
Approximately 1200 g
Warranty period
1 year

Accessories
Dedicated remote controller, 2 AAA size alkaline dry battery for remote control (for testing),
HDMI cable (about 140 cm), composite cable (about 110 cm), instruction manual, warranty card
Precautions on use
When playing back a DVD disc recorded with a recorder or a computer with this product, it is necessary to finalize with the recorded recorder or computer.
Depending on the recorder or computer, even if you finalize the disc, it may not be playable with this product.
Do not use it for business purposes. If using for a long period of time, it may cause a malfunction due to overload, there is a danger of fire or electric shock, so please contact us (03-5421-2255) before using it for business use.
Disk and external memory are not included.
Since the attached dry cell is for testing, its life span may be short.
Some Japanese file names may not be displayed correctly.
Even if it is a corresponding disc or external memory, playback may not be possible depending on the recording status.
The color of the product image may differ from the actual product.
Product design and specifications are subject to change without notice due to improvements etc.
Company names and product names mentioned are trademarks or registered trademarks of each company.