Bluetooth Head Set GH-BHHSB Series
Multi-pairing compatible, Bluetooth 3.0 mono headset
Bluetooth 3.0 compatible
Supports multipoint (2 units), multi pairing (maximum 8 units)
Auto power off function installed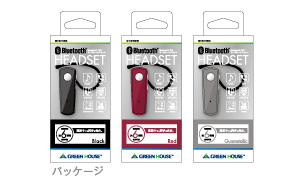 International Certification Criteria: GREEN HOUSE has various international certification standards: "ISO 14001", "ISO 27001", and "ISO 9001".
We deliver safe and high quality products.
| | |
| --- | --- |
| Color | P/N / JAN code |
| Black | GH-BHHSBK / 4511677080111 |
| Red | GH-BHHSBR / 4511677080128 |
| Gun metallic | GH-BHHSBG / 4511677080135 |
Release Date:Late Oct. 2012
Features
Compatibility
Specifications
Features
Bluetooth 3.0 compatible mono headset
You can make a hands-free call without taking out the smartphone or mobile phone from the bag. You can listen to not only calls but also one-segment broadcasting, YouTube and other sounds.
※ HFP or HSP is necessary for calling, A2DP is necessary for music playback

What you can do with hands-free?
With a hands-free headset you can easily make a call while working on your PC, putting makeups, polishing nails and cooking where your hands are occupied.

It is possible to wait for two devices at the same time with multi point support.
You can stand by at the same time for two devices and it is convenient for those who are using both smartphone and mobile phone.

Up to 8 units can be memorized by multi pairing.
Up to 8 Bluetooth compatible devices such as personal computers and smartphones can be stored with multiple pairing.

Compatible for One-Segment broadcasting
You can enjoy the sound of one-segment broadcasting as well as movies.

About 6 hours usable with USB charging
You can use it for about 6 hours by charging from a USB port of a personal computer etc. with a dedicated USB charging cable.
In addition, you can charge even at home outlets using the optional USB-AC adapter.


USB-AC Adapter AC outlet
GH-ACC-USB series (sold separately)
GH-AC-USBA (sold separately)
USB-AC Adapter
→GH-ACC-USB series
→GH-AC-USBA
If it is iPhone, battery residual quantity indication is possible
The automatic power off (ten minutes) function deployment
It is equipped with an automatic power off function (the function that a power supply becomes OFF automatically approximately ten minutes later when I cut connection) that is convenient for a saving of the battery.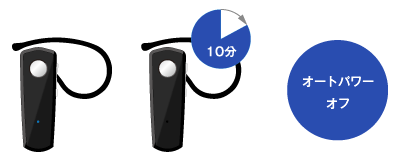 Compatibility
Applicable equipment
Bluetooth compatible smartphone, iPhone, iPad, mobile phone, personal computer, audio equipment etc.
※ HFP or HSP for calling, A2DP for music playback
Compatibility information
→ Go to compatibility information
Specifications
Bluetooth standard
Ver 3.0 Class 2
Corresponding profile
HSP, HFP, A2DP
Transmission method
FHSS (frequency hopping method)
Transmission frequency range
2.4 GHz to 2.480 GHz
Transmission distance
Approximately 10 m (varies depending on usage environment)
Content protection
SCMS-T method
Microphone
Overall directionality
Power supply
DC 5 V (supplied from USB port)
Battery
3.7V lithium polymer battery
Charging time
About 80 to 120 minutes
Continuous use time
(during call / music playback) About 6 hours
(Standby time) About 160 hours
External dimensions
W 17 × D 50 × H 26 (mm)
Weight
Approximately 15 g
Warranty period
6 months

Accessories
Exclusive USB charging cable (about 60 cm), spare ear hook, instruction manual / 6 months warranty card
Precautions on use
For details on how to operate the corresponding Bluetooth device, check the instruction manual that came with the corresponding Bluetooth device.

Even if the corresponding Bluetooth device is used, it may not function correctly.

Hearing may be damaged if used at a high volume for a long time, so please use it at a reasonable volume.

Do not use under dangerous circumstances where you must hear your surroundings, like while driving or walking.

Do not use if you feel abnormal.

If smoke, heat generation, unusual smell, or abnormal noise occurs, stop using it immediately.

Do not burn, bluff, throw or drop.

Do not pull the cord when inserting / connecting the plug, and hold the plug carefully.

Do not attach any foreign matter or liquid in it.

Avoid heat and humidity and direct sunlight.

Do not disassemble or remodel it.

Do not use in places where children and infant can reach.

Follow the instructions of the airline for use inside the aircraft.

If you are using medical devices such as pacemakers, please consult your doctor beforehand.

Bluetooth and the Bluetooth logo are registered trademarks of Bluetooth SIG, Inc. in the United States.

Company names and product names mentioned are trademarks or registered trademarks of each company.
The color of the product image may differ from the actual product.

Product design and specifications are subject to change without notice due to improvements.

For opening, be careful not to get injured, please handle it carefully.